I like to teach my children about many cultures, and I've always been interested in the varied cultures of Native Americans. Every culture and every person has their own story, and today I'm happy to be sharing with you the story of the Sky Dancers by Connie Ann Kirk and illustrated by Christy Hale.
I received a copy of this book in exchange for our honest review. You can join in by adding your own posts to the linky below.
We knew we had a book coming across the Atlantic for us to read, but we didn't know which book it would be…the anticipation was exciting! The children were ready to open up the package and peek inside as soon as the envelope was pushed through the mail slot! What would they find?
Sky Dancers
Sky Dancers is a book set in New York during the 1930s and 40s. John Cloud is a young boy who loves to explore the world around him. He loves to climb a tree, but he's too scared to go beyond the second branch, which is the opposite of his father, uncle, and grandfather who all work in New York City building the highest building in the world, the Empire State Building.
John Cloud only sees his father on the weekend as he stays in the city during the week. One weekend he couldn't make it home to the reserve as there was work to be done, and times were tough so it was good to have work. John Cloud went with his mother and grandfather by train into NYC to see his father. It was an assault on John Cloud's senses to go from the quiet of the reserve to the noise and business of the big city.
John Cloud saw his father high above, walking confidently across the steels. He looked like he was dancing in the sky! That night he asked his father how he managed to walk across the sky.
"Some people say anybody with enough courage can do it," Papa said. "But I listen to Mother Earth and Father Sky. If you trust them, they will hold you in their embrace just as they did our ancestors who built the bridge over the Great River years ago."
That night John Cloud sat in the city apartment and listened to stories on the radio and played cards with his family, taking it all in. A time later John Cloud again attempted to climb his tree, but this time he listened to what the tree was telling him and he confidently climbed up higher than he'd been before. He wondered what his father could see so high in the air. John Cloud wasn't sure if he would continue in his father's footsteps and and become a sky dancer, but he knew that he would follow his heart when the time came.
The illustrations are full-page and the colours are slightly muted as if from an old movie or album which helps set the time. There are lots of visual cues that have started discussions with the children about how things are similar and how things have changed in the past 70 years.
There is an author's note at the back of the book explaining the connection between the Mohawk and the steel working industry. It was interesting to learn that some of the people involved in the Twin Towers rescue of 9/11 were descendants of the men who had helped to build it.
There is also a teacher's guide available from Lee & Low Books, which has a lot of extra information about the books and ideas on how to use it.
My children brought out some wooden boards and made themselves a balance beam to practice being sky dancers. This year they were close to the earth, but I hope we can create a higher balance beam for them next year.
It was also the perfect opportunity for the children to try out their new tin can stilts. Tristan usually doesn't like being off-balance, but he confidently stood on the cans and started to walk.
Kallista is usually more daring, but she didn't like the tin can stilts – at least not today.
And this brings to an end the posts by the Multicultural Kid Blogs for Native American Heritage Month. I've certainly enjoyed reading about the books, crafts, and activities that have been shared. Click through the links below to read them yourself, and I hope that you'll discover some great new blogs to follow. And if you blog, share any Native American posts that you've written.
And don't forget to enter the giveaway by using the Rafflecopter further down the page for your chance to win a Native American literary package.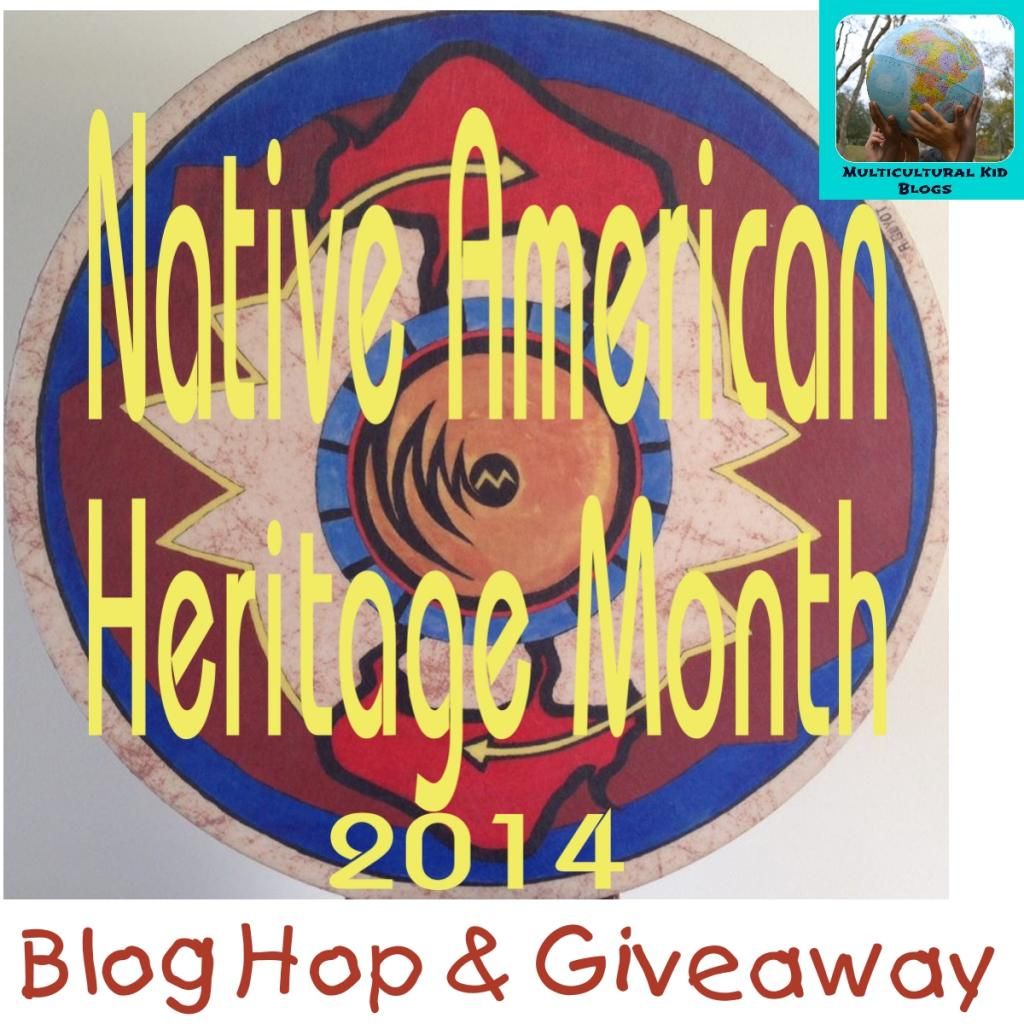 Multicultural Kid Blogs is proud to host the first annual Native American Heritage Month Blog Hop! Link up your posts on Native American cultures below!
For more great posts about Native cultures, be sure to follow our Native/Indigenous Cultures board on Pinterest!
Co-Hosts
November 3:
Daria's Music on Multicultural Kid Blogs
Crafty Moms Share
All Done Monkey
Discovering the World Through My Son's Eyes
Toddling in the Fast Lane
November 6:
Marie's Pastiche on Multicultural Kid Blogs
November 10:
The Good Long Road
The Mommy FactorGlobal Advocate, Jr.
November 13:
Crystal's Tiny Treasures
Native American Cultures Linkup
Now it's your turn to share!